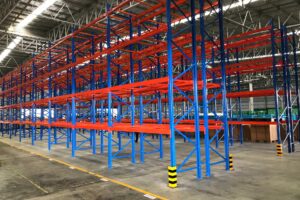 In the world of business, streamlining operations is key – and an effective way of doing this is by implementing effective racking solutions. Here's how investing in your racking solutions could be one of the keys to the success of your business.
Utilising Space
Effective racking solutions can transform limited storage space. Warehouses and storage facilities are often faced with the challenge of making every last inch of space count – and the right racking system can help you achieve this. When used from floor to ceiling, you can double or even triple storage capacity.
By implementing vertical storage solutions, businesses can reduce the need for expansive floor space – which in turn could help them reduce rent and maintenance costs. This efficient use of space also enables businesses to stock more products, allowing them to meet customer demand with ease.
Improved Organization And Accessibility
An organised storage system is crucial for smooth business operations. Effective racking solutions enable business owners to categorise and store their products systematically. This not only improves the management of your inventory but also enhances accessibility. Employees can easily locate and retrieve items, reducing the time spent searching for products and minimising the risk of errors – and wait times for your customers.
Having an organised storage area means that you are able to keep track of what items you have in stock and what needs to be replenished. As a result, you will only be spending money on what you need, reducing the risk of doubling up on items you already have and stopping those which are lower in number from running out.
Enhanced Safety
Safety should be a top priority in any workplace, and effective racking solutions can play a significant role in this area. Properly designed racking systems ensure that heavy or fragile items are stored securely, reducing the risk of accidents and injuries on site.
Additionally, a well-organised and clutter-free storage space is inherently safer, as it reduces the number of tripping hazards and improves visibility for your employees. By investing in the right racking solutions, businesses can create a safer work environment for everyone on the premises.
Increased Productivity
Efficiency and productivity go hand in hand – and tailor-made racking solutions can have a direct impact on a business's productivity levels. With streamlined storage and retrieval processes in place, employees can work faster and more efficiently. This, in turn, leads to quicker order fulfilment and reduced lead times – all of which will boost customer satisfaction.
By reducing the time needed to store and retrieve items, employees can focus on higher-value activities. So you'll find that your new racking solutions have a really positive impact on all areas of your business.
Storage That Works For You
Effective racking solutions are more than just storage systems; they are integral to the smooth running of a business. From maximising space and improving organisation to enhancing safety and increasing productivity, their impact on your day-to-day operations cannot be overstated.